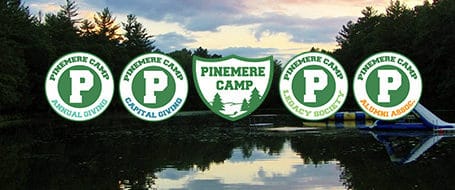 Click here to go to the Pinemere GIVING CIRCLES donation page
Thank you in advance for thinking of Pinemere. We invite you to join us in improving camp. Click on our GIVING CIRCLES link above to see the variety of ways that you and your family can help camp grow. Our

 

GIVING CIRCLES h
elp ensure that our unique community of campers, families, staff and alumni will continue to grow for another 76 years!

 
We will dedicate and acknowledge each donation in your honor or in tribute to the person of your choice. We are also in the process of building a donor wall and developing GIVING CIRCLE thank you gifts for our donors. Please contact us for more information!
Every gift counts, so please spread the word! I'm sure you'll agree that Pinemere Camp is an incredibly special place. Thank you ahead of time for joining us in continuing our traditions, improving camp, and making sure that every kid can go to camp!
Mitch
Mitch Morgan, Executive Director
To make your tax-deductible contribution,
DONATE ONLINE or mail your check to:
Pinemere Camp
4100 Main Street, Suite 301
Philadelphia, PA 19127
GIVING CIRCLES AMAZON WISH LIST