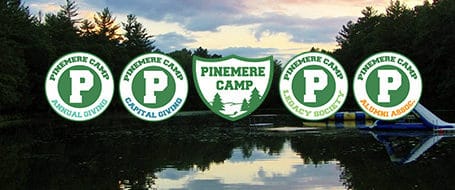 Click here to go to the Pinemere GIVING CIRCLES donation page
Thank you in advance for thinking of Pinemere. We invite you to join us in improving camp. Click on our GIVING CIRCLES link above to see the variety of ways that you and your family can help camp grow. Our GIVING CIRCLES help ensure that our unique community of campers, families, staff and alumni will continue to grow for another 79 years!
Even while COVID-19 suspended our 2020 summer, The Pinemere Team works hard all year to raise the bar for future summers. Thanks to members of our alumni, Board of Directors, current families, strategic partners and members of the full-time and seasonal staff, we have invested more than $2,000,000 in facility updates and capital improvements over the past 6 years. Our success can also be seen in the work we're doing each summer. Here's a little glimpse into some highlighted info: 
Over the past 6 years our retention rate has been 95% which is more than 20% higher than the National average. 
93% rate that Pinemere has positively impacted both their Jewish identity and individual identity/self confidence. Both ratings are nearly 10% higher than the National average.
96% of our Staff rated Pinemere as a GREAT place to work, which is also 10% higher than the National average.
Pinemere Camp's impact is absolutely amazing! Our team is continuing to push forward and we're dreaming big about Summer 2020 and the future of our program. We need your help to make our dreams reality and invest in the current and future generations of the Pinemere Family.
There are two main ways that we'd like your help:
Annual Giving
Capital Campaign
Annual Giving
It is Pinemere's goal to ensure that every child, no matter their family's financial means, can attend a session at Pinemere Camp. Many of us attended camp due to the generosity of another individual or family. As our campership has grown, so have the requests for camp scholarships. Every year the need rises and through the help of donors and foundations, we are able to meet many of these requests. We need your help to make ensure that all needs are funded. Donating to Pinemere to meet scholarship needs the greatest demonstration of community. 
Capital Campaign
We have already raised roughly $1,000,000 and now we are pushing to double that amount! Major and minor projects are all currently underway, but we need your help to keep our momentum going and ensure that Pinemere's physical facility and program spaces are ready for the needs of today and our future generations. We'd love to speak with you about specifics, but here are a few places we are hoping to invest capital dollars with the help of your donation:
Program spaces - A new high ropes course, renovations to our current sport courts, large activity pavilion.
Living spaces - Updates to the CIT unit, bathroom renovations around the entire camp, 
Rec Hall - New Rec Hall with new performance space in the Dell and new Chapel. 
Security - Continuing our updates around the property to increase the security of the facility.
Our work today creates the Jewish leaders of tomorrow. One way or another Pinemere Camp had an incredible impact on us all. Please help us make Summer 2020 our best summer yet by investing in our future and donating to our Annual and Capital Campaigns. 
Campingly,
Eytan Graubart
Executive Director
To make your tax-deductible contribution,
DONATE ONLINE
or mail your check to:
Pinemere Camp
333 E Lancaster Ave, Suite 332, Wynnewood, PA 19096