PINEMERE

Experience Pinemere
Our Jewish Camping Tradition
We describe Pinemere as a "Jewish Identity" experience, as opposed to a formal Jewish learning environment. Our goal is not to indoctrinate campers and staff into a particular track of Jewish study, but rather to offer a unique living experience where a Jewish child can feel comfortable and in touch with his/her heritage. Our program is therefore designed to create a Jewish undercurrent, and is able to accommodate a wide range of personal backgrounds. Over 98% of our campers, CITs and staff are Jewish and come from a variety of Jewish environments at home – some practice the religion regularly, while others may be completely unaffiliated. While we aspire to staff our bunks with staff who can contribute to our campers' Jewish experience, our priority is to hire positive and responsible role models.
Values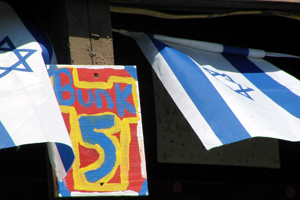 The persistence of Jewish values is important at Pinemere. It has long been a part of Jewish tradition to develop the finest qualities in community and individuals. Creating a strong sense of family and caring has always been part of both Jewish history and Pinemere.
Kosher/Kashrut
Pinemere has operated a Kosher food service for over 50 years. Keeping Kosher is a link to the Jewish traditions of times past and present, although the majority of our families do not keep Kosher at home. In fact, for many of our campers and staff, their only experience with Kashrut is at camp. "Keeping Kosher" means following the dietary practices based on biblical legislation, which includes separation of dairy and meat items and other regulations. The menu at camp reflects an excellent variety of foods, and our commitment to operating a Kosher kitchen does not limit this at all.
Shabbat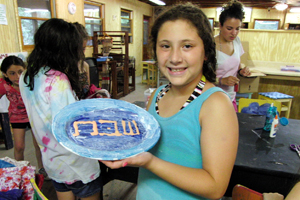 Pinemere creates a traditional and enriching Jewish environment for its campers and staff throughout the summer. We celebrate Shabbat each week as a community.
Shabbat begins on Friday at sundown and continues through sundown on Saturday. After a special Kabbalat Shabbat program on Friday afternoons, services are held in our lakeside chapel and are led by our campers, CITs, and staff. This time together as a community at our chapel affords us a chance to join in songs and prayers that reflect a cross-section of Jewish experience, while the environment is made to be very relaxed and accommodating for all.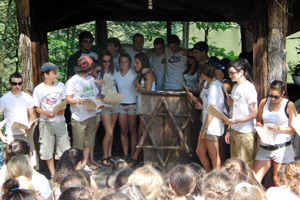 Services are followed by a special Shabbat dinner complete with a "ruach" (spirit) singing session. Friday evenings close with fun and informative Oneg Shabbat activities.
On Saturday, our morning routine will be adjusted to allow for a more leisurely wake-up and breakfast (see "Schedule" for more information), and our all-camp Folk Sing follows Saturday morning's service. We close Shabbat in the evening with a brief Havdallah program organized by our CITs.
Our campers and staff must wear white shirts and khaki shorts or pants (or skirts, for girls) for Shabbat services. This style of dress unifies our camp community as we celebrate the most important and special time of the Jewish week. Please note that our camp office will maintain limited hours during Shabbat, as described earlier in the "Contact Information" section.
Daily and Special Programs
During an average day at Pinemere, there are certain elements to the program that remind our campers they are at a Jewish camp. These are part of our Jewish tradition and offer a flavor of Judaism that we feel is important. These daily exercises include the reciting of the Shema and the recitation of brief prayers before and after certain meals. There are other activities that are geared towards Jewish culture, including Israeli scouting, Hebrew tutoring, etc. Some programs are mandatory, while others are elective.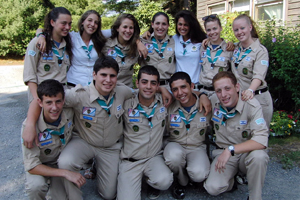 Throughout the course of the summer, we also include special activities for the campers to gain further insight into Jewish history and culture. There may be an evening program with a visiting group from Israel, a program led by our own Israeli staff at camp, or a Jewish music concert. We want to offer interesting and enjoyable insights into elements of Jewish religion, culture, and history for all in attendance.