PINEMERE

Activities
Experience Pinemere
Swim Instruction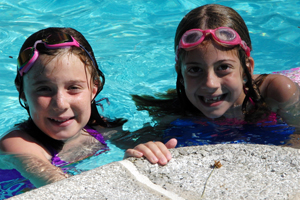 Instructional swimming periods are held 5-6 days per week, and are run on the American Red Cross (ARC) standards. Campers are divided into groups on their first day of the session, and are given ongoing instruction to help them improve their skills, no matter which level they are. These groups are guided by the waterfront staff, including certified lifeguards (LGT) and Water Safety Instructors (WSI), as well as assistance from other counselors as needed.
Swim instruction is held at the swimming pool. All campers are expected to take a "Deep Water Test" at the start of the session, which includes swimming two lengths of the pool (any stroke) and a treading period. If campers do not pass, they are able to retake the test as many times as they would like.
All campers participate in Instructional Swim, with the exception of the oldest campers (entering 9th grade), who instead participate in a special program that challenges them to perform fitness and gain other equivalent skills.
Free Swim
There is an open swimming time at the pool (and/or lake) almost every afternoon of the session. In most cases, campers are offered free swim as an elective choice. On especially hot days, additional free swim periods are often added.